Welcome to Destiny Starting Point
Greetings…Everyone that been placed on earth has a destiny. That is the focus of Destiny Starting Point Welfare Association, Klang. Here we help these young lives and the homeless & handicapped people to attain the meaning of life and reach the destiny. We don't give up on anyone even though when family forsakes them.
Destiny Starting Point is specially designed for Delinquent Boys and *Girls (from age 7-17), whose parents and school authorities have difficulties in stilling discipline in them.The home's aim is to restore these lives that have been lured by undesirable elements and rebuild them to become a healthy and productive.
In Destiny Starting Point, we create an homely atmosphere for these young lives.Home is a neutral environment where these young lives will be able to express themselves; we also provide stability, love, secure and discipline.Since moving to Pandamaran, in 1994, we often wondered what is our role was in this area.We kept coming across and meeting troubled young teenagers and kids;Involved in drugs, school dropout, gangsterism, etc… listening to our hearts, we started to bring in some troubled kids or teenager into our own home..but were limited in time and space.We did what we could by housing 3 boys of such cases in our home, but, more were coming and we were limited in space. After much prayer and thinking we decided to start a work among these "social ills" of society. We are convinced that this is what we are called to do for our nation. Then on we moved into a bigger house and spacious place in Taman Radzi.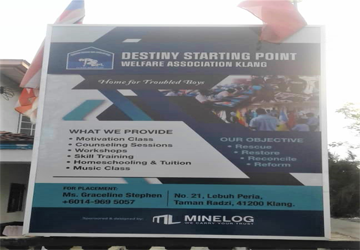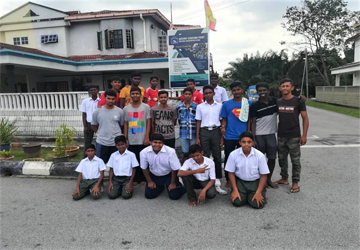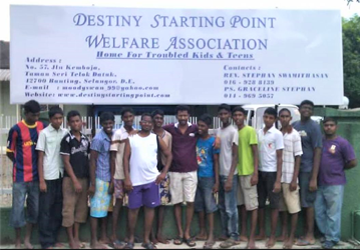 Research shows that people become what they are because of their environment.Nobody is born to be a drug addicts,gangster or a bad hat of society.They are lured in to it over a course of time and circumstances. Gives an opportunity they would like to make a life for themselves.But they would need guidance, care counsel and love.
To rescue these young lives from their habits and environment.To restore their destiny and identity. To reconcile them with family and nation.To reform their ways and actions.Each individual would be given duration of 2 years or more,by which we hope some new solid good habits will be formed.
- training in basis skill
- basic hygiene classes
- counseling- character building
- nature studies
- house chores
- talks to develop self
- sport & recreation
- motivation lesson
- tuition
"Nobody is born to be a drug addicts,gangster or a bad hat of society!"
They are lured in to it over a course of time and circumstances